Chimichurri Potato Salad
VEGAN / SERVES: 4 / COST PER SERVING: $4
Ingredients
2 pound baby potatoes, halved
1 watermelon radish (or 3 regular radishes), thinly sliced
12 ounces green beans, cut into 1 inch pieces
2 cups arugula
1/2 scallions, sliced
lemon
Directions
In a large pot of water, boil the halved potatoes for about 10 minutes, until they are soft when you poke them with a fork.
Meanwhile, slice the watermelon radish with a mandolin and cut the green beans into one inch pieces. Get a bowl of ice water ready to blanch the green beans.
Once the potatoes are cooked, drain them then bring another pot of water (just use the same pot) to a boil. Once boiling, add the green beans and blanch by cooking for 2 minutes, then transfer them into the ice water for a 2 minutes. Then place them on a clean towel to dry.
Toss the potatoes, green beans, radishes, arugula, scallions, and chimichurri together. Add salt and pepper to taste with a squeeze of lemon and serve.
I love chimichurri and am always looking for ideas to use it more. I found this recipe in my copy of Love and Lemons Everyday by Jeanine Donofrio. Her and her husband have been cooking up incredible (and simple!) vegan and vegetarian dishes for years on their blog Love and Lemons.
More Recipes with chimichurri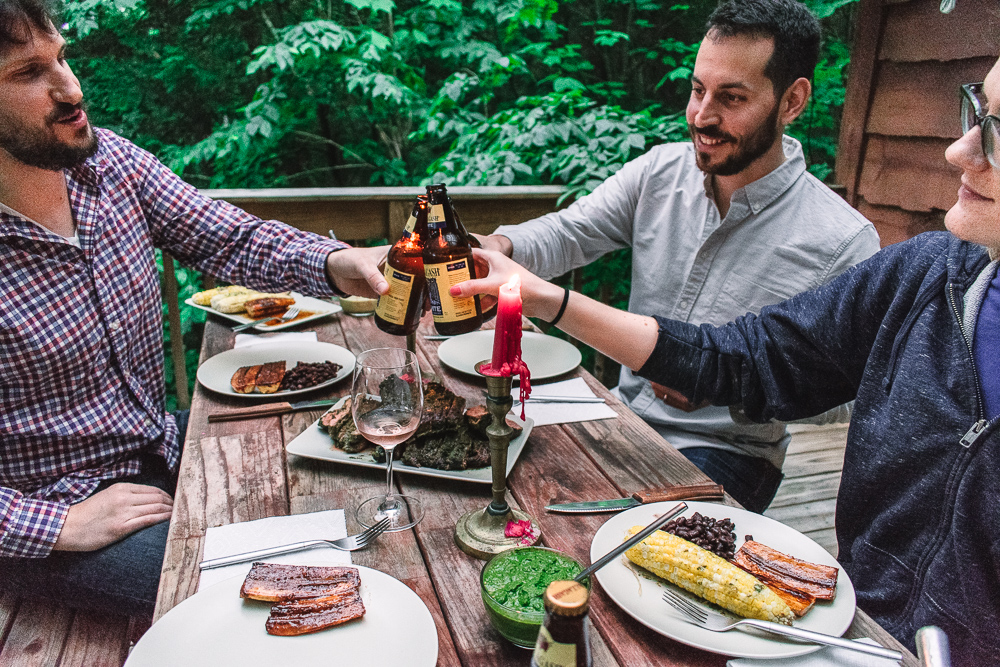 Chimichurri Steak with Cilantro-Lime Corn and Glazed Plantains
Share
Did you enjoy this recipe? Leave a comment below and share on social.